Spring Food Stroll 2012
WEDNESDAY
05
•
16
•
12
5:30 pm to 8:30 pm
Come Whet Your Palate
Spring will officially kick off in the District at New London Main Street's Annual
Spring Food Stroll
.
Savor the fare of nearly 50 restaurants and specialty shops in New London's Historic Waterfront District. Snack and enjoy the flavors of downtown as you sample the District's best cuisine. Take advantage of special discounts, promotions and demonstrations at many specialty shops and boutiques. Enjoy diverse musical performances by local musicians throughout downtown.
Button Prices
| | | |
| --- | --- | --- |
| | In Advance | Day of Stroll |
| Button | $25 | $30 |
| Military | $20 | $25 |
| Student* | $20 | $25 |
Children ages 5 and under are free with paid adult.
Group discount available for groups of 10 or more. Please contact Main Street Office for details 860.444.2489.
To purchase your button, visit 147 State Street, Suite B, New London, or call 860.444.2489.
Buttons are available at the Main Street office. Limited quantity available! All purchases are final.
Military and students must show ID upon button pickup. *Student button does not include drink ticket.

The Stroll is a rain or shine event!
Taste Here
-
2 Wives Brick Oven Pizza
-
Bangkok City Thai Restaurant
/
Little Tokyo Japanese Restaurant
-
Bulkeley House Saloon
-
Captain's Pizza
-
Chaplin's
-
Copperwood Grill
-
Daniel's Dairy Downtown
-
Dev's on Bank Street
-
East Coast Catering's Atrium Cafe
-
Gaspar's New American Cusine
-
Hanafin's Public House
-
High 5's
-
Hot Rod Cafe
-
Jasmine Thai Restaurant and Sushi Bar
-
Little Sister's Bake Shop
-
Lyric Cafe
-
Mambo Bar & Restaurant
-
Muddy Waters
-
New London Fire Department
-
Subway at Bank Street
-
Sweeties Bakery & Cafe
-
The Commoner
-
The Pub
-
Tony D's Restaurant
Shop & Snack Here
-
46 Bank Antiques
-
Bank of America
hosting
Rita's Water Ice
-
CONNfetti
hosting
Hosmer Mountain Beverages
-
Custom House Maritime Museum
-
East Bank Gift Shop
-
Fiddleheads Natural Food Coop
-
Field of Greens Farmers Market
-
F.R.E.S.H. New London
-
Garde Arts Center
hosting
Two Chefs
,
The Cake Lady
,
Deep River Snacks
,
New London Plaza Hotel
, and
Lola Treats
-
Hygienic Art, Inc.
-
Pinc!
hosting
You Take The Cake
-
Rose's Final Touch
-
Sarge's Comics and Games
-
Shaw Mansion
-
Somaly Hay & Co.
-
Studio 33 Art and Frame Gallery
hosting
Mariah's Chow Chow Relish
-
TDP Art Studio
-
The Kitchen Gallery
-
The Telegraph
-
Treehugger Organic Salon
-
TSETSE Gallery
Bands & Entertainment
The Ancient Mariners Connecticut Fife & Drum Corps
was founded July 4, 1959 in Guilford, CT. Their portrayal of the common sailor of 1812 brings to life a vivid display of the colonial seaman through an enthusiastic rendition of a musical good time. Built around the wood fife and the rope tension drum, the Mariners play and sing a variety of traditional music. From up-tempo hornpipes and jigs to the work songs used aboard ships, the story of the ancient sailor is told. The Ancient Mariners Connecticut visited Basel, Switzerland last summer, performing a sold-out concert with their brother-corps, the Swiss Mariners of Basel. Together, they are "The International Mariners" or simply, "The Mariners." For more information, visit
www.AncientMarinersCT.com
.
Bill "Swamp" Shaka and Tony C
are 2011 Connecticut Blues Society solo/duo challenge winners and 2012 International Blues Challenge semi-finalists in Memphis. The dynamic duo are also the heart and soul of Shaka & the SoulShakers, a high-octane, tail shakin', second line quartet. For the past quarter century, Shaka, a former New Orleanian and hurricane Katrina flood surviving tunesmith, vocalist and harp blower, has been conjurin' up his brand of energy-driven R&B, serving it up to audiences around the globe. Shaka and company will take you on an emotionally charged excursion deep into the heart of the American south's rich & earthy blues tradition, before dropping you smack dab in the middle of a simmerin' south Louisiana soul stew, Big Easy style! For more information, visit
www.ShakaAndTheSoulShakers.com
.
The Syndicate
consists of Paul Battles (guitar and vocals), Tim Mead (bass and vocals), Wade Rice (drums), and Ed Soufer (guitar and vocals). The band was formed in the winter of 2010, and their goal is to cover songs that make people want to move, groove, and have a good time! The Syndicate are not your usual cover band. For more information, visit
www.thesyndicaterocks.com
.
Senior Dancers from Connecticut College
will be performing a 12-minute excerpt from Adele Myers's "Einstein's Happiest Thought," an evening-length multidisciplinary investigation into the physical state of imbalance as potential freedom. Directed and choreographed by Adele Myers along with: Josh Quillen, composer; Blanche Boyd, writer; and filmmaker, Emmy Pickett; the collective exploration folds dance, film, music and writing into a performance of risk as a personal narrative. Five female performers bring robust athleticism and sometimes execute improbable tasks. Ain Gordon is the dramaturg for the project. "Einstein's Happiest Thought" will premiere at OnStage at Connecticut College in February 2013. For more information, visit
www.adelemyersanddancers.com
.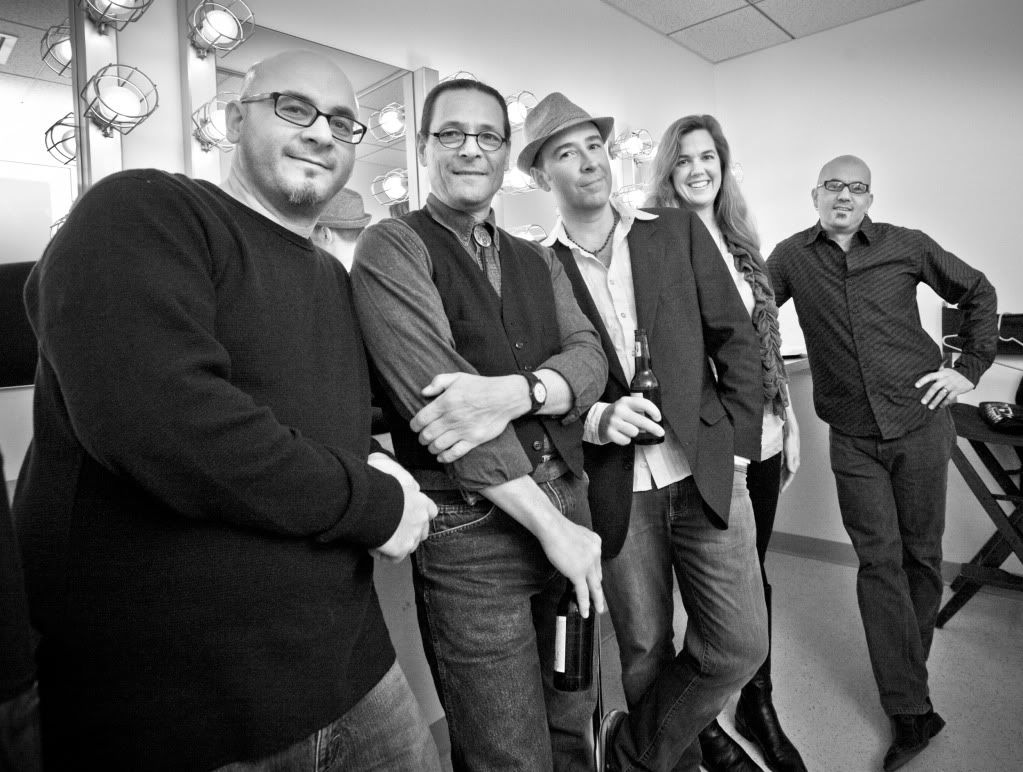 Rivergods
- more information coming soon!
Special Ceremony
Two scholarships are being awarded during the Food Stroll at the
New London Fire Station Headquarters
, 289 Bank Street. The New London Irish Parade will award scholarships to Daniel Pisolwloski of Canterbury at 6:30, and to Shauna Lewis of New London at 7:30.
Sponsors
-
Block Island Express
-
Chelsea Groton Bank
-
City of New London
-
Cross Sound Ferry
-
Dime Bank
-
Fiddleheads Food Co-op
-
Legrand Ortronics
-
Mohegan Sun
-
Pfizer
-
Suisman Shapiro
Media Sponsors
-
The Day
-
KOOL 101
Stay tuned for more information!
--------------------------------------------------
Spring Food Stroll 2012 is produced by:
- New London Main Street